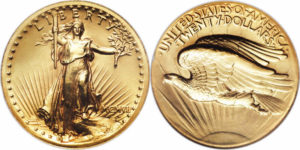 In 1907, a coin that made people consider the most beautiful ever made in the United States was produced at the Philadelphia Mint, and then changed – with a hammer!
President Theodore Roosevelt long admired the coins of ancient Greece and Rome. In the winter of 1905, he was able to convince his friends, Augustus Saint-Gaudens, to redesign our nation's coins. Saint-Gaudens was the most famous sculptor of the time – and though he had little interest in designing coins, he reluctantly agreed.
At that time, the U.S. Mint was an institution virtually off-limits to anyone who didn't work there. All coins matters were presided over by Chief Engraver Charles Barber. Barber was not an especially gifted engraver, and he bitterly resented any outside interference. For two years he resisted putting Saint-Gaudens's design onto coins. Barber said the designs would not strike well because they were designed in such high relief, with a three-dimensional quality that would be virtually impossible to reproduce.
By mid 1907, Saint-Gaudens was dead, and Roosevelt personally ordered Barber to make the coins… "even if it takes all day to strike a single piece!" he thundered. The new $20 gold piece required several blows from a special hydraulic press – but the result was magnificent. The figure of Miss Liberty had a windswept look, and the three-dimensional quality made the coin seem to come alive. Poor Charles Barber never could have created such an imaginative design,
But only 12,000 of these special coins were produced before Barber was ordered to reduce the height of the design for the regular coin production. Barber was only too happy. Folklore has it he placed the beautiful high-relief dies between two boards, then flattened them by repeatedly hitting the boards with a hammer!
By Mark Van Winkle
This program was underwritten by COIN WORLD.